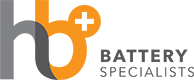 HB+ Battery Specialists
Hollyhock HB Plus Battery Specialists is Australia's largest volume distributor of Duracell and Duracell Procell Dry cell bulk batteries. We are a family owned and operated business with more than 30 years of experience in the battery industry.
HBPlus Battery Specialists services include the design, manufacture and distribution of a wide selection of batteries. We provide services for all of your battery requirements, from the smallest orders to the largest. HBPlus Battery Specialists are a business of efficiency; with our Carrum Downs warehouse in Victoria, we are able to refurbish and re-pack batteries on site, providing quality service at a reasonable cost.
Head Office Address: 8 Network Drive, Carrum Downs 3201, Victoria
Sales Contact Phone No: (03) 9770 8235
Email Address: sales@hbplus.com.au
Website Address: batteryspecialists.com.au