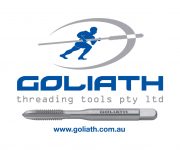 Goliath Threading Tools
Goliath Threading Tools has been established in Australia now for over 45 years. We have developed our business through a network of Distributors and our Number 1 priority is to maintain our level of quality, service & reputation of which is second to none.
We stock the largest standard range of Quality High Speed Steel and High Speed Steel Cobalt Taps & Dies in Australia. We also stock many threading related products including Tap Wrenches & Diestocks, Coventry & Tangential Chasers, Cutting Fluids, Thread Gauges, Thread Files, Walton Tap Extractors and we also stock the original Zeus Data Book.
Goliath is the sole Australian agent for Relton cutting fluids and specialized drilling products, manufactured in the USA. We stock a range of Relton "Rebar Cutters" designed to tear rebar out of concrete to keep the job moving forward.
Goliath's head off office is located in Birmingham, England and Goliath International has branches worldwide.
When you're after quality, experience, service and reliability Goliath Threading Tools are the company for you.
Head Office Address: 266 Victoria Street, Brunswick, Victoria 3056
Sales Contact Phone No: (03) 9387 4755
Fax No: (03) 9387 9219
Email Address: sales@goliath.com.au
Website Address: www.bordo.com.au